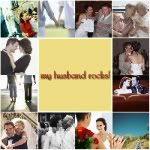 I am really bad at remembering to blog about a certain thing on a specific day...So here are a few reasons why my husband rocks (b/c I've missed a few weeks)
1. He called this afternoon to see if I'd taken the video camera for Aiden's first day of Kindergarten. Um, no but I did take pictures. He genuinely wanted to be there, but couldn't. Even when he's tired and crabby, he's always gone to every one of Aiden's preschool events.
2. He is constantly trying to better himself...but not for him, for us. All he wants to do is be able to support us and plan for our future. Even when I think his ideas are crazy (buying silver with half our savings, stocking up on food in the basement, storing jugs of water) I know he does it b/c he cares about us and wants to make sure that if something catastrophic would happen, we'd be okay.
3. He calls...he calls me to see how I'm doing when he knows it's going to be a long day, he calls if he's running late...and tonight he called to let me know the boss asked/ordered him out for beers and he wouldn't be home for dinner. Even though he'd been up since 3am (couldn't get back to sleep) he sat down with Aiden and I when he got home and asked Aiden about school, ate a little something and then read Aiden a book and tucked him in b/c it was his turn.
yea, he rocks...and I love him.