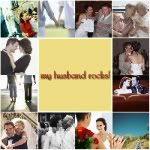 So I am combining MHR Friday with our anniversary.
We celebrated 4 years yesterday...well, I use the term celebrated loosely. We really didn't do much but plan on going out for dinner tomorrow. What can I say, we're an old married couple, we don't party during the week.
Why does he rock...this week he rocks because he doesn't get offended when I ignore him, my children, the house work and everything else b/c I'm sick...oh, and b/c I am so incredibly addicted to reading the Twilight saga that nothing matters other then Edward Cullen and his world of vampires, werewolves, and misguided love.
Also...he loves me in spite of the fact that I'm messy and moody...and can be a general pain in the ass. For 9 years...yes, we've been together for NINE YEARS, he's loved me, unconditionally.
btw, if you are still waiting on the vacation recap and pictures...please be patient, I've also ignored the online world due to my recent addiction. It's a sickness that can't be helped.